Madrid is a city of art, among many other things. It is home to some of the most famous pieces of art in the world and three of the best museums of art in Europe — the Prado, the Reina Sofia, and the Thyssen-Bornemisza.
These three museums make up what is called the Golden Triangle of Art in the heart of Madrid. They are located with a short walking distance of one another, on either sides of the Paseo del Prado, a beautiful, tree lined boulevard that goes north-south through the heart of the city.
If you're not an art connoisseur, or even don't have much of an interest in art at all, it's worth it to stop into Madrid's main art museums to see some of the most famous works ever painted.
Amazingly, two of these museums — the Prado and the Reina Sofia — have daily free hours where you can walk in without paying anything. You should always check online to make it's not a holiday and to double check the hours themselves. This is a great option if you're to super into art, don't want to spend a lot of time or money on museums, or want to prioritize the many other sights and experiences Madrid has to offer.
In this post, I'm just focused on the Reina Sofia and the Prado as the most emblematic art in Madrid is housed in these two museums (in my opinion) and they have free hours, so are accessible to all.
Here's my take on the must-see pieces of art in Madrid:
Guernica by Pablo Picasso
This painting by Picasso is probably the most visited piece of art in the Reina Sofia.
Guernica is the name of a small town in the Basque Country, a region in northern Spain, that was bombed by Franco during the Spanish Civil War with support from his fascist allies, including the Nazis. For this reason, it is considered by many to be one of the first acts of World War II, even though the bombing took place in 1937.
Like many of Picasso's paintings, there is so much to look at and analyze in Guernica that you could spend hours and hours reading about it and studying it. The Reina Sofia also has many of the studies Picasso painted or sketched of smaller pieces of the final work before painting Guernica, so you can see and read about how the painting came together.
You can read more about it on the Reina Sofia's English website here.
Las Meninas by Diego Velázquez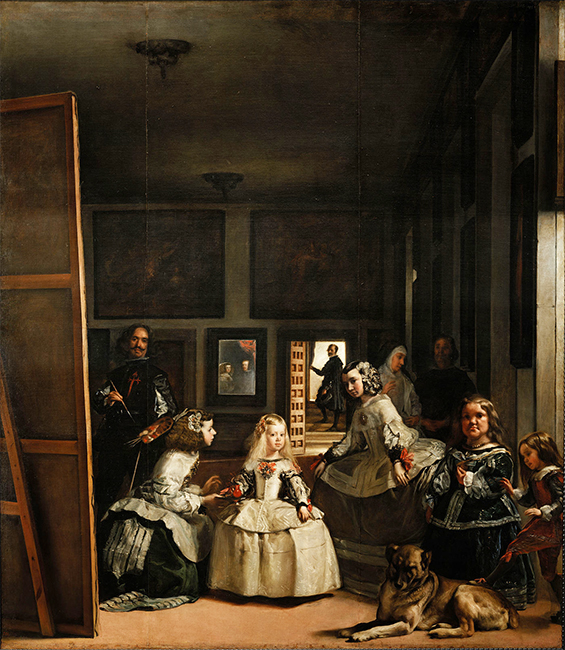 Las Meninas is perhaps the most famous painting in the Prado, which is really saying something. There is almost always a crowd in front of it and, if you're lucky, you might catch an adorable field trip of little madrileños and madrileñas learning about the painting.
There are several aspects of this painting that make it revolutionary for its time. First, the painting includes a self-portait of Velazquez, seen standing in front of a large canvas painting. His subjects, the kind and queen of Spain, are seen in a reflection in the small mirror in the back of the painting. This puts the subjects of the paining in the same place as the audience,
This is a great article about the Velazquez and here is a great piece about why Las Meninas was and still is such a revolutionary painting.
Pinturas Negras by Francisco de Goya
Las Pinturas Negras, or the Black Paintings, are a series of paintings by the Spanish painter Goya. He originally painted them as fourteen murals on the walls of his private home and were not intended for public viewing. They had to be transferred to canvas and are now housed in the Prado.
As you can see from the three above, they are all dark both in the themes the paintings address and it their actual tones as well.  Goya painted them at the end of his life, after going completely deaf. He lived in a small village in the outskirts of Madrid and was quite isolated.
Personally, I love these paintings because they are unique compared to other paintings of the time. They are also such a stark contrast to Goya's earlier works (see below) which I think makes them fascinating as well.
They are grouped together on the bottom floor of the Prado. You can read more here is a and here to see all of the Pinturas Negras and learn more.
The Garden of Earthly Delights (Jardin de las Delicias) by Bosch
The Garden of Early Delights is my personal favorite piece of art in the entire world. I find it fascinating, incredibly ahead of its time, and generally mesmerizing. I stop by the Prado every time I'm in Madrid to see it. The Dutch painter Hieronymus Bosch lived from the late 1400s to 1516. This painting was completed in the early 1500s, but it reminds me of the modernity seen in Dali's work in the 20th century.
It's hard to tell from online photos, but this piece is a triptych and the backs of the panels are painted as well. It's displayed so that you look at the back sides as well as the front. The panels heaven, earth, and hell and are open to many different interpretations.
This painting is just so weird, brilliant, and visually overwhelming at the same time. Every time I look at it, I find new scenes and details to think about.
Here are a few close ups of the fascinating weirdness in all its glory–
The Prado's website allows you to zoom in on different parts of the painting to see details, which is key if you're looking at the paiting online. Actually, it's helpful regardless of how you look at it because there's you can only get so close in person.
This amazing website lets you click on different parts of the painting and then gives you a narrated explanation, including historical context, which is incredibly helpful.
Dos and Tres de Mayo by Francisco de Goya
Goya's Dos and Tres de Mayo depict scenes from Napoleon's invasion and the subsequent French occupation of Madrid. Dos de Mayo depicts an uprising of Madrilenos against the French forces while Tres de Mayo is more graphic and depressing, showing a Spaniard about to be shot by French forces.
These events were key happenings during an important part of Spanish history and they make up a particularly important part of Madrid history and culture. May 2nd is a holiday in the autonomous region of Madrid in memory of those who fought to resist French occupation and those who died.
Plaza Dos de Mayo not only still exists, but the central plaza of the vibrant and hip neighborhood of Malasana. The plaza today is filled with bars and restaurants and a play area of for kids. Even the name of the neighborhood itself is related to this event. Manuela Malasana was a young women who participated in the uprising against the French. She was executed in the Plaza Dos de Mayo less than a day after the uprising starting. Manuela became a symbol of freedom and was widely memorialized and celebrated.
After you visit the Prado to see these spectacular paintings, you can stroll up to Malasana and have a beer at one of the many terraces and bars in the Plaza Dos de Mayo.
You can find more information here .
Las Majas by Franciso de Goya
There is lots of Goya in Madrid, as you can see. These are to of Goya's best known paintings and are displayed side-by-side. Painting a woman nude at this time in Spain was considered to be quite risque, but Goya went ahead anyway.
It's interesting to contrast these paintings, and even the darker in subject but still quite realistic Dos and Tres de Mayo, with Goya's Black Paintings. You can really see how much his style evolved and his interest in subjects changed over the course of his life.
The Prado's fantastic website gives you detailed information on both paintings.
The Great Masturbator by Salvador Dali
Just when you thought we were moving away from nudity and wrapping things up….. This is one of Dali's most emblematic works and it hangs in the Reina Sofia, along with other Dali works. Dali, along with Picasso, is probably one of Spain's best known artists internationally and he is arguably the most famous surrealist. Dali is from the Cataluna region of Spain and much of his work is partially inpired by the Catalan landscape. He died relatively recently, in 1989.
Art critics have interpreted this piece as self-reflective of where Dali and how he felt about himself when he painted it at 25 years old. You can read more here.
My recommendation would be to visit the Garden of Earthly Delights in the Prado and compare it to this work. Despite the fact that they are separated by hundreds of years, they are quite similar in several ways.
While the paintings I've highlighted here are some of Madrid's most famous pieces of art, they barely begin to scratch the surface. There are other art museums to visit apart from the big three that make up the golden triangle of art and these selections only feature art from two of those three. Both the Prado and the Reina Sofia have sculpture as well, as do other museums.
If you want to see the key pieces of art in Madrid, these recommendations are a good place to start, but with so many incredibly options, it's quite possible to customize your museums and art viewings around your personal interests and tastes.